Tankless Water Heater Installation & Repairs
Tankless water heaters provide hot water right when you need it. By heating cold water directly, you don't have to wait for hot water to fill the tank. You have a steady, constant flow of hot water whenever you need it. And since there's no tank, you don't have to wait for someone to get out of the shower before you can run the dishwasher. You get hot water all over your home at the turn of a knob. And no tanks means no hot water sitting unused, reducing your overall heating costs by hundreds of dollars.
We Know Our Way Around a Water Heater
Tankless water heaters can save you time, money and space, but they can only work if they're installed correctly. At Central Plumbing, we're certified to install all water heater brands, including major brands like Rheem, A.O. Smith, GE and Noritz. We'll make your water heater installation process a breeze, giving your home access to unlimited hot water. And our comprehensive knowledge of plumbing systems as well as brand specifications ensures your water heater is installed the right way. We know how and where to install the water heater to optimize its function in your home.
We can also help lengthen the savings tankless water heaters offer. We can extend the life of your water heater with proper maintenance and repair. And because we're brand certified, we can do repair work under warranty at no cost to you. Your tankless water heater can provide you with endless hot water for years to come with the right repair and maintenance from Central Plumbing.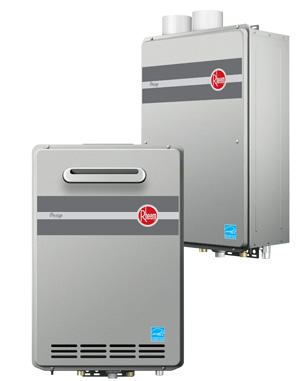 Forty Years of Tankless Water Heater Expertise
As a local, family-owned plumbing company, we've been serving Louisiana residents' plumbing, sewer and gas needs for 45 years. We have real people waiting to help you 24 hours a day, seven days a week. Our flat-rate pricing and professional plumbers mean no surprises on your service call. Just a job well done by an honest plumber. Let us install your tankless water heater and keep your plumbing running smoothly.
Call Us Now for a Free On-Site Estimate
We offer free on-site water heater estimates in East Baton Rouge, Ascension, Livingston and West Baton Rouge parishes. We install water heaters all over the state, but a trip charge may apply for service outside of our standard area. Please call us for more details to see if you can get a free estimate on your new water heater.