Should I Replace or Repair My Water Heater?
On one hand, replacing your water heater is a good option to consider if you want a newer model that saves you money on your water bills. Yet, for many people worried about costs, the question of whether a water heater can be easily repaired versus needing to be replaced can weigh heavily. Our plumbers at Central Plumbing can help answer your questions on whether you should replace or repair your water heater if you aren't sure when they inspect your water heater.
In the meantime, as you wait for one of Central Plumbing's plumbers to arrive, here are some factors you need to consider when deciding to replace or repair your water heater.
If a Few Parts are Broken, You Can Repair Your Water Heater
The main feature of a water heater is the tank itself, but it also has other parts that help the heater function. Often, these parts can stop working, and people think it's a sign to replace the whole unit, but that isn't true. Some parts that can be easily repaired on a water heater are:
Burner assembly
Heating elements
Valves
Thermostats
Thermocouples
Igniters
Motors
Due to their nature of breaking easily, these water heater parts are available to replace and reinstall onto your water heater for a more affordable price. If the only issues with the water heater are those parts that can easily get replaced, you can just repair the water heater instead of replacing the entire unit. However, if repairing those parts doesn't fix the problem, then there may be a deeper issue with the tank.
[Related: When to Replace Your Water Heater]
Are Any Leaks Present?
One factor you should be concerned about is if you see signs of a leak anywhere near the water heater. Leaks are caused by water minerals inside the tank reacting to the steel surrounding it, which corrodes the tank. Signs of a potential leak present inside your water heater include:
Puddles or moisture around the base
Rust is present on the exterior
If water is coming from the bottom of the tank
Water is coming from the pressure relief valve or drain valve
Once a leak has been determined, often, it is likely you will need to replace your water heater. When serious leaks occur, it means pressure has been building up inside the tank as the water pressure and temperature have risen. Over time, this increases the risk of the tank possibly exploding.
In situations like this, repairing a water heater is not possible, so it must be replaced. Before you do that, if you spot any kind of leak near your water heater, contact a plumbing professional like the plumbers from Central Plumbing as soon as possible. No matter what time of day it is, our plumbers can check your water heater and prevent a potential tank explosion.
If You Need to Repair the Water Heater Often, You'll Need to Replace It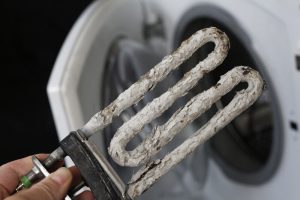 Due to their important nature and function within the plumbing system and your home, water heaters can be sensitive and be prone to some repairs. While some of these water heater repairs can be attributed to a lack of maintenance, you shouldn't need to repair your water heater more than twice a year. If you need to repair the water heater more than that within a year, it may be time to consider getting a replacement water heater.
[Related: Common Water Heater Problems]
Is Your Heater Over 10 Years Old?
As your water heater gets older, a risk for more problems begins to increase. Yet, the main question to replace or repair a water heater will depend on how old the heater in your home is. The rule of thumb is water heaters under 10 years old are still considered efficient and more likely to work well.
Newer water heaters are typically up to 20% more efficient than older water heater tanks over 10 years old. Thus, if your traditional water heater is over 10 years old, it is time to consider replacing your water heater. Before replacing, check which kind of water heater you have, since electric water heaters can last for 10 to 15 years while tankless water heaters can last for 20 years. In any case, plumbers from Central Plumbing can install your newer, more efficient water heater with ease, so you won't have to worry about whether to repair a water heater for a long time.
Whether or not you need to replace or repair a water heater, Central Plumbing can help you determine which path is best. In addition, we are certified to replace and repair all water heater brands, including those from major brands like Rheem, A.O. Smith, GE, and Noritz. When the time comes to replace or repair the water heater in your home, contact Central Plumbing at 225-925-8552.